Our Team
At the heart of our buisness is a relationship. A relationship with you as a client and our team as the advisor. We are commited to maintaining, cultivating and growing that relationship so that together we can make your goals a reality.
To do that, we have put together a team of individuals with different skillsets to help create the perfect balance needed to create the future you are looking for.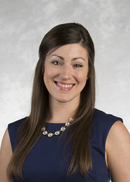 Lindsey N Dueland
Lindsey is the newest member of our team. She has a thorough background in local banking, and works directly with Dan and his clients. She is responsible for all scheduling with our team, and is an integral part of our client experience.
Lindsey is Life, Accident and Health licensed in MN.